Landscape Installations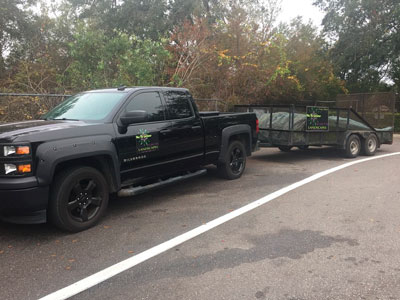 Installation of a great landscape design is a crucial aspect of the project. A timely and proper installation makes all the difference in the world. Knowing the depth of planting and properly working out air pockets on big specimens is a craft that not many landscapers understand. I have heard it said that landscaping is just planting trees and shrubs in the dirt but there is much more to know than just being able to dig a hole. At Mac The Gardener, we design and install landscapes specific to your needs, preferences, and the unique features of your lawn and outdoors. We cater to the local landscaping requirements of our clients throughout Dover, FL, and the surrounding areas.

In choosing us you can be assured of multiple years of experience and quality of plant installation. We install large specimen trees and palms and complete landscapes with shrubs and mulching to the highest standards of Florida agriculture landscape practices.


Florida Native & Friendly Landscapes
We are the specialists in Florida native and friendly landscapes. This specialization allows us to promote a natural ecosystem that supports the local flora and fauna. Whether the installation is across the entire landscape or a part of it, this approach involves the use of low-maintenance plants and eco-friendly and sustainable practices.

The creation of all-inclusive and self-sustaining plant communities helps enhance your garden and yard with environment-friendly native plants.


Landscape Designers
Our landscape installation services can help spruce up your landscape in many ways. This includes:


Enhanced Color: A wide range of planting and flower options can create elegantly colored flowers, shrubs, and greener grass.
Multiple Layers: We can design and install multiple layers of different shapes and sizes of fauna across your landscape. The layout will be designed to best suit your property.
Healthy Landscape: Fresh and healthy plants are installed to give a healthier glow to your landscape.

Our landscape installation services offer long-lasting results that stay beautiful and fresh for the long term. You will not have to worry about a landscape that looks stunning only for a short-term before it dries and turns dull.


Our Landscape Installation Process
Our landscape installation process focuses on including you in all the steps. From the initial inspection to concept to project completion, we follow a collaborative approach to bring your vision and ideas to life. Some of the key aspects of the process are as follows:


On-site design consultation
Planning with drawn-to-scale visuals to showcase plant arrangement
Site preparation
Plant placement
Planting
Mulching

This is followed by the nurturing process as the landscaping begins to take root.

With decades of experience in the industry and in-depth local knowledge, we can take care of each step in the process. From the strategic planning of locations to checking the soil to helping the newly installed landscape to thrive, we take care of everything. Your home doesn't deserve a dull and boring landscape. At Mac The Gardener, we strive to transform your ideas into reality while offering unmatched expertise and experience in this field. For more information about our services, call us today at 813-695-1703. You may also send us your project details using this Online Form and we will get back to you as soon as possible.

Click on the images below to view a larger display.


Bimarckia Installation

Truck and Trailer

Washingtonia Installation
We Provide Services to the Following Cities, Towns and Surrounding Regions of FL: